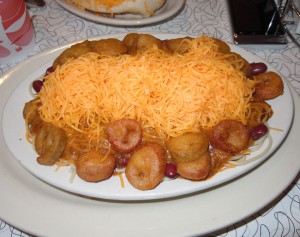 September 2011:  While on one of our regular drives from Ohio to Florida, we decided to take a small detour while driving through Cincinnati and check out Blue Ash Chili.  This place is pretty straightforward.  They sell Cincinnati-style chili, and they put it on all kinds of stuff.  (Cincinnati-style is generally spiced with cinnamon.)  Upon entering, we were greeted, but it was unclear what to do from there.  The place was completely crowded, and they didn't tell you what to do.  After a few minutes of standing there, they eventually told us to seat ourselves.  The only available spot was a booth for 4, so we crammed in there (even though there were 5 of us).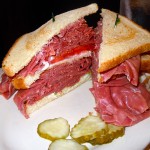 I specifically came for the chili.  Chili is served many ways, including: plain, with cheese, 3 way (over spaghetti with cheese), 4-way (add beans or onions), 5-way (add beans AND onions), or 6-way (add fried jalapeno caps).  Of course, I'm all about fried jalapeno caps, so I went for the 6-way.  I also ordered a coney dog.  Melly went crazy and decided to order a double decker corned beef sandwich. (Good thing she did though.  It was awesome.)  The food arrived quickly, and the plates filled our tiny table.  The coney dog was typical style for the area.  Small hot dog, topped with chili and a massive pile of cheese.  The chili 6-way was layered with all the goodness mentioned above, and it was absolutely delicious.  The chili had an excellent flavor, and had just the right amount of spice to not be overpowering.  The jalapeno caps were also quite delicious, so I can't recommend them enough.  One surprise was the quality and size of Mel's corned beef sandwich.  It was large, stacked high, and very premium corned beef, especially for the low cost.  (I think it was like $6.75 or something.)   I've been in so-called delis that didn't have sandwiches that good.
Overall, I was extremely impressed with both the quality and quantity of the food.  The prices were also very reasonable, and I can't imagine why I wouldn't go back.  If you're ever in the area, I definitely recommend that you check it out.  It's currently top of my list for best chili spaghetti I've ever had.
Food:  [usr 10]
Service:  [usr 8]
Show:  Diners, Drive-ins and Dives — Episode:  Comfort Food with Attitude (907)
Restaurant Info:  Blue Ash Chili Restaurant — 9565 Kenwood Rd, Cincinnati, OH 45242 — (513) 984-6107