December 2011:  On our way to Florida, we drove quite a distance off the beaten path for a hot dog, and it was a good one.  In the hills of Lesage, West Virginia, there's a little hot dog stand called Hillbilly Hot Dogs.  The place is easy to spot, being decorated with dozens of tacky "hillbilly-style" decorations.  There's lots of wacky stuff to see.  The place just oozes fun.  However, we're here for the hot dogs.
One hot dog in particular caught my eye.  It's the Homewrecker.  It's a 15-inch custom made hot dog, fully loaded with everything you could want in a hot dog.  There was chili, cheese, peppers, onions, sauerkraut, you name it.  This thing was solid.  If you finish it in under 12 minutes, you get a free t-shirt.  We thought that it sounded kind of big, so we ordered one to split.  It arrived, and it was cooked to perfection.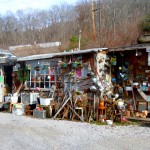 Everything was right about the Homewrecker, from the toasted bun, to the various mystery sauces sprinkled on top.  The hot dog itself also had a special flavor.  It was unlike any I've ever had.  It had a snap to it, and lots of flavor.  The Homewrecker was simply delicious.  My only regret is that we ordered one to share, and it was a little smaller than I had envisioned.  I totally could have eaten the whole thing in 12 minutes for the shirt.  As it was, Mel didn't eat much and I finished 3/4 of it in about 3 minutes.  It was damn good.
There are various other hot dogs on the menu as well, all of which have wacky names and are loaded with lots of toppings.  Hillbilly Hot Dogs really is a fun little experience, and totally worth driving out of the way for.  You won't be disappointed.
Food:  [usr 9]
Service:  [usr 10]
Show:  Diners, Drive-ins and Dives — Episode:  Something Different (306)
Restaurant Info:  Hillbilly Hot Dogs — 6591 Ohio River Rd, Lesage, WV 25537 — (304) 762-2458
Website: http://www.hillbillyhotdogs.com/