July 2011:  Just north of Indianapolis in a little town called Carmel is Jersey's Cafe.  Featured recently on Diners, Drive-ins and Dives, I was immediately drawn to this joint simply for the idea of a guy bringing Jersey-style food to the midwest.  New Jersey's pretty far away, while this area is only 3.5 hours from home.  Upon entering, there are numerous signs for people to be patient.  Good food takes time, etc.  (I guess people complain about how slow things go there.)  The service still seemed pretty quick for food that supposedly takes time.  Perhaps they get backed up on busy days.  I don't know.  In any case, the menu is LOADED with all kinds of things I wanted to try.  They had cheesesteaks in over 30 varieties, deep fried hot dogs (rippers), sandwiches galore and lots of other great looking stuff.  We decided to go with a batch of loaded potato chips, a ripper, and a few cheesesteaks.
The loaded chips arrived first.  I wasn't expecting much, but these things were absolutely insane.  They were freshly cut chips, topped with bacon pieces, Monterrey Jack cheese, and a light drizzle of barbecue sauce.  On the side, they include a cup of their house-made buttermilk ranch sauce for dipping.  This was an awesome combination.   Everything was right about these chips.  The ranch seemed to even work well with the BBQ sauce.  I was totally surprised.
The ripper also came out with the chips.  I ordered mine plain with a side of deli mustard, just to see what all the fuss was about.  (In case you're unaware, a ripper is a hot dog that is put in the the deep fryer just long enough that the skin begins to rip open on the sides, creating a ripped look.)  The hot dog was a little crispy, and tasted exactly how I wanted it to.  (I could have used to be a little larger, but it was still delicious.)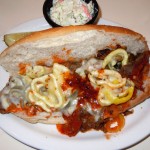 Finally, our cheesesteaks arrived.  I ordered a Firehouse one, complete with a billion kinds of habanero, jalapeno banana peppers, hot sauce, and pepper jack cheese.  It was tasty, but there comes to be a point where too much spicy just prevents you from tasting the actual food.  (I did burn my mouth, however but mostly because of the actual temperature of the food, not the spiciness.)  Mel ordered a cheesesteak that had marinara sauce and meatballs on it.  This was an incredibly wacky combination, but ultimately really good.  Putting meatballs on a cheesesteak sandwich?  Genius.  My only gripe was that my sandwich was considerably smaller that Mel's.  (As you can see from the picture, her sandwich was much more "loaded" than mine was.)  Everything we ordered was pretty delicious, and the service was great.  Overall, the prices were very reasonable at Jersey's, and if I were ever in the area, I'd definitely stop again.  I'd recommend it to anyone.
Food:  [usr 9]
Service:  [usr 10]
Show:  Diners, Drive-ins and Dives — Episode:  Fully Loaded (1110)
Restaurant Info:  Jersey's Café — 13710 North Meridian Street, Carmel, IN 46032 — (317) 846-7760