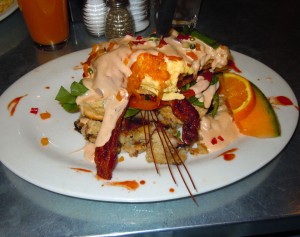 May 2011:  Vegas has a few locations for Hash  House A Go Go now, and we sure had trouble finding this one.  The address led us straight to the Imperial Palace casino, but was pretty unclear from there.  There were signs that indicated that it was upstairs inside the casino, but it wasn't terribly straightforward where to go.  Basically, if you want to find it, look for the center escalator and save yourself time searching.  Treasure hunt aside, we finally made it upstairs and were seated.  The place was filled with hipster waiter types, all of whom made you feel like you weren't cool enough to be there.  They were right.
I ordered the Fried Chicken Eggs Benedict as Adam made it look super duper good on Man v. Food.  I also ordered a glass of tangerine juice.  (This glass of juice was $6!)  Mel ordered some sort of French Toast with bananas and stuff on it.  I think it had some sort of wacky name like a train wreck or brick yard… I can't remember.  It was French Toast.  Nothing fancy.  When the food arrived, it had a nice presentation.  The chicken was nicely cooked, but when it got right down to it, there was just too much junk piled on the plate with it.  Everything mashed together in a confusing starchy blob of food.  Between the thick bread and pile of potatoes on the bottom, it was just too much boring stuff to eat around (and I love bread and potatoes).  That sauce on top?  Not Hollandaise sauce.  It was some sort of hippy chipotle crap.  It was ok, but without Hollandaise, it's just not Eggs Benedict.  Kind of a key ingredient.  Freakin stoner hippies…  Don't get confused though.  The chicken was still rock solid, and the bacon/cheese toppings were definitely alright in my book.  It was just the other stuff that kind of ruined it for me.  Mel said that her French Toast had some sort of grilled banana on it that was really good.  Other than that, it was nothing to write home about (except for this writing).  The menu had a pretty wide selection of other dishes though, so maybe some of the other stuff is better.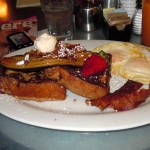 The service wasn't bad, but it was kind of slow.  That's to be expected for a place that's putting this many ingredients in your food though.  Still, it wasn't terribly great after the food arrived either.  Mel asked for syrup for her French Toast, and the waiter acted like she had three heads.  (Yeah, we'd like a little syrup on these giant loaves of French Toast…) Hash House was expensive, even for Vegas.  I think my breakfast (for one person) was round $28 including tax and tip.   It was tasty, but not $28 tasty.  I could have eaten 7 breakfasts down the street at the cantina, and been just as full.  Would I go back?  Probably not.  While "twisted farm food" sounds like a good idea (and it is in some cases), it was just too damn expensive for a breakfast meal.  Would I have liked this better if I had come back for dinner?  Maybe.  Still, I just think I'm not cool enough to appreciate a place like this.
Food:  [usr 6]
Service:  [usr 6]
Show:  Man v Food — Episode:  Las Vegas (202)
Restaurant Info: Hash House A Go Go — 6800 W. Sahara Ave, Las Vegas, NV 89146 — (702) 804-4646