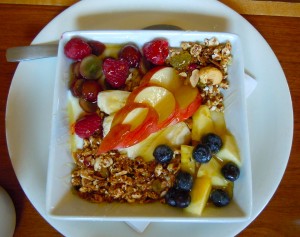 February 2011:  On our way through Cleveland, we decided to stop in and check out Lucky's Cafe for brunch.  When this place was featured on DDD, they had some crazy looking food, all made with fresh, locally grown ingredients.  Sounds good to me.  It's a local neighborhood restaurant, and by that I mean that it's literally in the middle of bunch of houses.  We stopped in just before lunch, as I had wanted to see how good this super fresh food was.
The menu wasn't terribly big, but it's mostly because everything was made in house.  If you order a reuben, it's with the corned beef they brine themselves, sauerkraut they make in house, thousand island island dressing they mix up, served on bread baked in house.  There's a lot of effort going into these sandwiches.  There were a few things on the menu I was interested in, and I was down to deciding between the Lucky Reuben and the new Cuban sandwich they had on the menu.  Being a big fan of Cuban sandwiches, I opted for to try that one.  Since it was pretty close to breakfast time, and we didn't really stop, my coworker ordered the granola plate.
The food arrived, and the presentation was very nice.  The granola/fruit plate looked exactly like it did on TV, and the sandwich was neatly stacked.  I'm told that the granola was very tasty.  I asked him if it was worth paying $11 for.  At that point he became unsure.  Sure, there was a lot going on in that bowl, but probably not $11 worth.  My sandwich looked pretty good, but was lacking in some of the basic flavors you'd typically taste in a Cuban.  I could hardly distinguish between the pork and the pears on the sandwich.  Neither had too much flavor.  Maybe it was supposed to be subtle.  I don't know.  Did I enjoy it?  Sure.  I might have liked it more if it were a $6 sandwich.  However, the fact that this Cuban was $14 did nothing to help.  It seemed pretty overpriced for what it was.  (If you're one of those nuts who loves food that is described with buzzwords like "organic", "natural" or "earthy" then you'd probably love this place.)  It wasn't really for me, I guess.  The service was a little slow too, as I had to wait for a drink refill.  With only 3 customers in the place, you'd think the guy would have been a little quicker.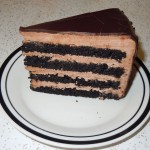 On the way out, we picked up several desserts, just to see if chocolate would change my mind.  I had a chocolate cupcake, a truffle, and a piece of torte/cake.  All three of them tasted nearly identical, including the $6.25 truffle, which was literally two bites.  They were good, but I'd stick with the torte if I were to get one again.  Overall, the food was good (not great), but very overpriced for what I'd think of as a Diners, Drive-ins, and Dives kind of place.  Yes, there's a lot of labor in this food, but it really only added to the price, not the taste.
Food:  [usr 7]
Service:  [usr 8]
Show:  Diners, Drive-ins and Dives — Episode:  Barbequed, Baked and Brined (708)
Restaurant Info:  Lucky's Cafe — 777 Starkweather Ave, Cleveland, OH 44113 — (216) 622-7773