February 2011:  Any time we see a place on Diners, Drive-ins and Dives with a pub-type atmosphere and a featured dish of Irish Beer Cheddar Soup, we're definitely interested.   While in Buffalo, we headed over to the Blackthorn Restaurant and Pub for dinner.  Upon our arrival, we were told there would be a short wait for our table.  We waited around 15 minutes for a table, and then were taken upstairs to be seated.  There were lots of empty tables, so a wait seemed unnecessary, but I've waited longer in other places so I figured it was no big deal.  (Yes, empty tables means they don't have enough waitstaff.  That also means that the service can suffer from being understaffed.. and it did. Oh well.)  The menu is loaded with lots of good looking stuff, and I came for two things in particular:  Irish Beer Cheddar Soup and Stuffed Banana Peppers.  Having tried the peppers a night earlier at the Anchor Bar, I was prepared to be disappointed, but everyone makes them different, so I kept my hopes up.  (Good thing I did, as they were actually pretty good.)
We ordered our Beer Cheddar Soup, and it was as advertised.  It was loaded with beer and a little cheese.  Actually, the beer was such a prominent flavor in the soup, that the cheese was barely visible.  If you're a big beer fan, you'll like this soup.  (Or, you could just order and drink a beer with a bowl of normal cheese soup.  Same effect.)  I ate it, but not being a giant beer fan, I wouldn't order it again.  Surprise, surprise, I believe the drunken frat boy type I was with loved it.  My salad arrived about the same time.  It had a house dressing that was outstanding.  Probably had a billion calories or something, but it was good.
We also ordered some Stuffed Banana Peppers and some Corned Beef and Cabbage Rolls.  The banana peppers were a million times better than then ones we ordered the night before.  They were loaded with cheese and flavor, stuffed fully, and served on these super yummy garlic toast points.  To make it even better, they were cheaper than the ones at the Anchor Bar.  It was like $8 for a hefty plate full.  The Corned Beef and Cabbage Rolls were basically egg rolls, but with corned beef in them.  They were pretty tasty, although I wish I had more of them.  There were only two in an order, cut in half to make it look like four.  Still, they were very good.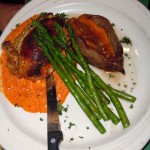 After what seemed like an eternity of waiting for our entrees, they finally arrived.  We ordered Tuscarora Chicken, a Cajun Seafood Bowl, and a Stuffed Chicken Breast.  The Tuscarora Chicken was a fried chicken breast with this crazy good cheese sauce with bell peppers and bacon.  I was totally satisfied.  The stuffed chicken breast was filled with Ricotta and prosciutto, then topped with a red pepper cream sauce.  It also looked really good, and I'm told it was delicious.  The Cajun Seafood bowl was nicely presented, and he said it was very good also.  It was loaded with shrimp, scallops, clams,  sweet red onions, artichokes & tomatoes, tossed with tortellini and Cajun cream sauce.  (Yeah, I lifted that description right from the menu, but it's easier that way.)  All in all, the entrees were definitely delicious.  This place has good food.
We had a good time at this place.  While it wasn't terribly cheap (about $90 for 3 people), it was definitely good.  To be fair, we had 3 appetizers, 3 entrees, and a few beers on the table, so it's not like it was expensive.  I think the average entree was around $15-18, which is pretty fair for the quality and time that goes into this food.  The only real complaint I have about the place was how slow the service was.  They didn't seem terribly busy, but we had to wait forever for stuff like refills.  There was a lot of minutes between times where we'd see the waitress.  Not a terribly big deal, but I thought I'd mention it.  The food was excellent though.  Everyone went home stuffed and happy.  If you're out in Buffalo, I can definitely recommend checking this place out.
Food:  [usr 9]
Service:  [usr 6]
Show:  Diners, Drive-ins and Dives — Episode: Home and Away (805)
Restaurant Info: Blackthorn Restaurant and Pub — 2134 Seneca St, Buffalo, NY 14210 — (716) 825-9327