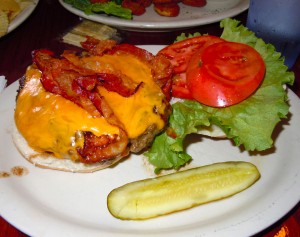 February 2011:  While on a lunch break, we realized that we were only 10 minutes from a good looking DDD spot:  Grover's Bar in East Amherst.  Grover's featured a cheeseburger soup on the show that Guy Fieri described as "liquid cheeseburger."  I had to try it.  When we arrived early for lunch, the place was absolutely packed.  This was the place to be.  We wrote our names on the chalkboard and waited about 10-15 minutes for a table.  We were seated, and served pretty quickly.  We got a plate of calamari rings for the table, and I ordered a cup of cheeseburger soup.  We ordered some monster looking hamburgers and a chicken sandwich of some sort.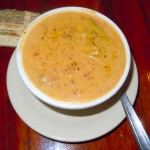 The calamari arrived, and while it looked neat in ring form, it was not that great.  It was a little rubbery and overcooked.  The cheeseburger soup was pretty good.  I was trying to place the flavor, as it seemed familiar.  Anthony immediately pointed out that it tasted like Hamburger Helper's Cheeseburger Macaroni flavor.  That was it precisely.  If I hadn't seen how they make it on Diners, Drive-ins and Dives, I'd swear that's what it was.  Shockingly enough, the lettuce actually stayed somewhat crispy in the soup.  I was very satisfied.  When the burgers later arrived, they were absolutely massive.  They were fully topped and loaded with juicy goodness.  They were messy to eat, but very good.  Anthony said that his chicken sandwich was pretty good also.
All in all, the food was pretty tasty and reasonably priced to boot.  I don't remember exactly how much it was, but I think we spent around $40-45 for 3 people.  (I should note that they didn't take credit cards here.  Be prepared and bring some cash. Again, the food wasn't terribly expensive, so if you carry less than $40 around, get some cash, will ya?)  We had quite a bit food, and we all had leftovers, so I felt it was worthwhile.  The waitstaff was very friendly and the service was quick.  I'd eat there again if I were in the area for sure.  There's just no reason not to.
Food:  [usr 8]
Service:  [usr 10]
Show:  Diners, Drive-ins and Dives — Episode: Dives Worth a Drive (710)
Restaurant Info: Grover's Bar and Grill — 9160 Transit Road, East Amherst, NY 14051– (716) 636-1803