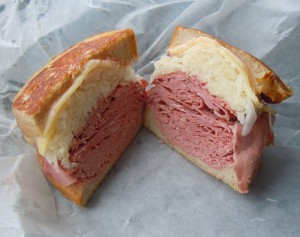 January 2011 – Today, I was hungry for a real deli sandwich like we're always seeing on TV, so I decided that we'd drive up to Ann Arbor and check out the Maize and Blue Deli on the campus of the University of Michigan.  Being on campus, the parking is extremely limited here, so I parked on the street while Mel went inside to get our sandwiches.  I ordered a Triple Play Reuben, which is: Corned Beef, Pastrami, Switzerland Swiss & Jarlsberg cheeses, sauerkraut and Russian dressing on grilled sourdough rye.  Mel ordered a Maize n Blue Awning.  This one is Roast Beef, Smoked Turkey, Colby & Jarlsberg Cheese, honeycup mustard, tomato, onion and green pepper on grilled white bread.
Since the place was very small inside, we drove a mile or so away to a grocery store to eat our sandwiches in the car.  They were stacked high just like on TV, but ultimately small.  Don't get me wrong, there was plenty of food, and you're not going away hungry, but these were tall, rather than big sandwiches.  The Reuben was OK.  I could barely taste the Russian dressing.  The cheeses weren't very prominent either.  There was meat, and lots of it.  Could I tell the difference between the corned beef and pastrami on this sandwich?  No.  If I had pulled it apart, I might have, but altogether on the sandwich, it just blended together into basic meat.  The same thing happened on the Awning that Mel ordered.  The roast beef overpowered the turkey mostly, and the cheeses were too mild.  The saving grace on that sandwich, however was that special mustard.  It was tasty.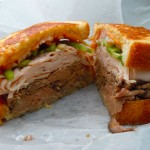 Was I satisfied with my sandwich?  I guess so.  I wouldn't order it again.  $19 for two sandwiches and a pickle is a bit much.  There were no sides.  I know deli meat is expensive, but it's not like this was special meat.  This was the same quality I could have gotten at my local grocery store at half the price.  I sort of wish I had just done that instead.  Oh well.  At least I've beaten my craving for a deli sandwich.
Food:  [usr 6]
Show:  Man v Food — Episode: Ann Arbor (320)
Restaurant Info: Maize and Blue Deli — 1329 S University Ave, Ann Arbor, MI 48104 — (734) 996-0009