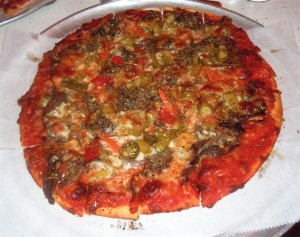 September 2010:  We were on the road once again heading to a trade show in Chicago.  Since we were staying pretty far out of town (Bolingbrook) we decided to stop someplace on our way into the area.  In the South side of Chicago, in the baddest part of town…  (OK, so it's really in the Southwest side, but you know what I mean).  Anyhow, in the Southwest side of Chicago, there's a pizza place called Original Vito & Nick's Pizzeria.  Oddly enough, this might be the only place in Chicago that doesn't do deep dish pizza.  I figured we'd have to check it out.
The neighborhood we had to go through to get to this place was pretty rough, traffic filled, and my coworker nearly pissed himself more than once.  He was scared of the area, and I can't say I felt safe the entire drive either.  The actual location of the pizzeria was nicer, so my dopey GPS may have just taken us on a bad route.
The Original Vito & Nick's Pizzeria was just your standard neighborhood bar/pizzeria.  There was a group of regulars watching Jeopardy, betting on questions at the bar, and a group of old ladies playing canasta in the corner.  Our waitress was pretty friendly, and when we asked what Giardiniera was, she brought us a sample of both the hot and mild.  (It's a pickled mixture of vegetables like celery, carrots, cauliflower, etc.)  We sampled the Giardiniera, and decided to get that on our Italian beef pizza, as Guy Fieri had on Diners, Drive-ins and Dives.
The pizza arrived and it was good.  I did think it was a little lacking in the meat department, however.  The one on TV seemed to be layered in beef.  I guess it shrinks… a lot.  Altogether, I polished off a small pizza on my own, as it was thin crust, but I didn't leave hungry.  It was a decent stop for anyone looking for a unique pizza if you happen to be in the area, but it really wasn't anything worth writing home about.  I enjoyed the food, but wouldn't make a special trip back for it.
Food:  [usr 6]
Service:  [usr 10]
Show:  Diners, Drive-ins and Dives — Episode: Something from Everywhere (506)
Restaurant Info: The Original Vito & Nick's Pizzeria — 8433 South Pulaski Road, Chicago, IL 60652 — (773) 735-2050