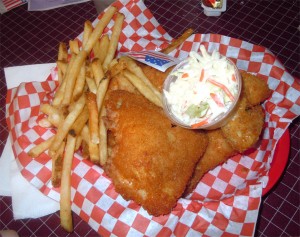 September 2010:  On the way back to Bolingbrook from McCormick Place in Chicago, we decided to stop into Dell Rhea's Chicken Basket in Willowbrook.  It's a classic chicken shack complete with restaurant and tap room for people who are into that sort of thing.  Upon entering, we were immediately seated, and given a menu of $3 martinis that were on sale.  We ordered a few drinks, along with a long list of random foods.  We ordered a cup of chicken and dumpling soup, half basket of corn fritters, half an order of buffalo wings, a fried chicken dinner and a fried gizzard dinner.
The corn fritters arrived first.  There were a half dozen, lightly dusted with sugar.  Pretty tasty.  Next up were the buffalo wings.  My coworker took one bite and immediately proclaimed that these were the best buffalo wings he had ever had.  I'd place them in my top 10.  Top 5 for sauce definitely, but I like a crispier wing, even when coated in sauce.  Finally, our chicken dinners had arrived.  Actually, two chicken dinners arrived, even though we specifically ordered one chicken dinner and one gizzard dinner.  When he told the waitress, she apologized and got his replacement order out pretty quick.
The chicken was definitely unique, and had a bark on it that looked like shake n bake, but clearly was not.  It was a special batter, and it was delicious.  If only I weren't so full by the time it had arrived.  The fries were a coated type that I didn't care for.  The cole slaw was also just standard fare.  The chicken was the main attraction here, and it was juicy and delicious.  I was told that the gizzard dinner was also among the best gizzards he had ever had.  He claimed that he has tried Joe's Gizzard City in Potterville, MI, so I'm not sure how they could have been better than those.  (I tried them.  They weren't better.  They were slightly chewy, where as the gizzards at Joe's just melted in your mouth.)
Overall, we had a great meal, and I was beyond stuffed before I had realized that I didn't get my soup.  I informed the waitress, and she insisted that I get it to go and eat it later.  I did eat it a little later, and it was good, but that also meant that I had no room for the chicken breast that I didn't have enough room to eat either.  Man I wish I had a fridge…  Oh well.  My coworker also ordered a deep fried blueberry pie, which was tasty fresh dough filled with canned blueberries. While he complained about the canned blueberries, the pie was still pretty good. It was a great meal at a great little restaurant.
Food:  [usr 9]
Service:  [usr 9]
Show:  Diners, Drive-ins and Dives — Episode: Return to Route 66 (509)
Restaurant Info: Dell Rhea's Chicken Basket — 645 Joilet Road, Willowbrook, IL 60527 — (630) 325-0780