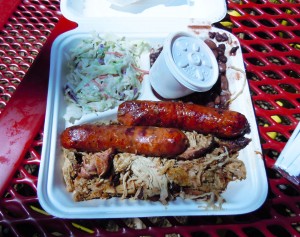 July 2010 – After a long flight from Detroit to San Francisco, we were starving.  Just a few minutes from the San Francisco Airport on the Pacific Coast Highway, is a giant orange railroad car.  Inside this car is a BBQ joint called Gorilla Barbecue.  It was a quick drive, and well worth it.
The fare is pretty standard for a BBQ place.  Ribs, Pork, Sausage, Brisket, etc.  I ordered pulled pork and hot links (sausage) with a side of mac and cheese and cole slaw.  We also ordered the ribs and beef brisket with same sides.  Everything also comes with beans and rice and a slab of cornbread.  The portions are huge, and the meat is delicious.  Everything was nice and juicy.  The sauce was definitely something unique.  My coworker mentioned that he'd be willing to drink it straight.
While I enjoyed the sauce as well, I did find that I actually liked it less the more of it I ate.  It definitely needed to be used sparingly.  It had a strong flavor that became overpowering if you slathered it on your meat, as you might expect in many BBQ joints.  This is a dipping sauce for sure.  The ribs were delicious, as were the brisket and pulled pork.  I enjoyed the hot links at first, but did end up giving the rest of them to the other guy.  There was a spice I just didn't care for that I kept running into.
Overall, I enjoyed the place, and would definitely stop back if I were driving up the PCH.  My only complaint was a lack of seating in an area that wasn't windy and bee covered.  (The seating area is on a hill, which is always windy right near the ocean, so you spent the entire meal trying to get your napkins not to blow away.)  If I do stop back, I'll just get take out.  It's juicy enough to be good later.
[usr 7]
Show:  Diners, Drive-ins and Dives — Episode: Smokin' BBQ (510)
Restaurant Info: Gorilla Barbecue — 2145 Coast Highway, Pacifica, CA 94044 — (650) 359-7427