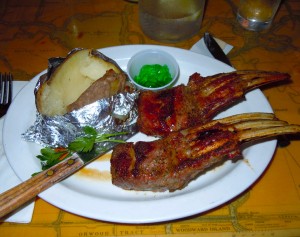 July 2010 – Giusti's in Walnut Grove, CA is a "Hunters and Fisherman's Paradise" you'd completely miss if you didn't know it was there.  (The hunters and fisherman's paradise thing is weird sounding, especially in California, where the hippy mentality doesn't allow people to hunt or fish, but anyhow…)  This place appears to be someone's house while driving down the street, and when you finally make it up the driveway it's only then that you realize there's a restaurant there.  We'd have never found this place if we hadn't specifically been looking for it.
Our first impression of the employees wasn't exactly great.  We called ahead of time to find out if they took American Express (as nobody does), and the guy who answered in a very sarcastic manner, "No.  We don't take American Express.  We also don't take Visa, Mastercard, or your library card either." … Needless to say, I was pissed about it.  You don't want to take credit cards?  Sure, I get that.  Less paper trail.  There's no need to be a dick about it though.  After a short discussion, we decided to go anyhow.  I wanted some lamb shanks!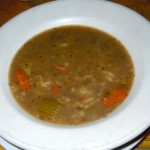 Once we looked at the menu, we realized that it was rather small, and many of the things on the menu weren't as we saw on Diners, Drive-ins and Dives.  It looks like some of the items (like lamb shanks) are just chef's specials.  (Note:  Call ahead if you really have your heart set on a particular dish you see on TV.)  Luckily for me, they had rack of lamb on special tonight, so that's what I ordered.  We also ordered a big giant bowl of steamed clams.
The meal started with this mediocre bread.  It seemed kind of dry and boring.  This was, of course, until I realized that this bread was an excellent vehicle for the rest of the meal.  The minestrone arrived, which was delicious, and worked well with the bread.  Next was the salad, which was a house special, with a salami plate and a pinto tray.  Also delicious, and the leftover dressings and oils were great with the bread.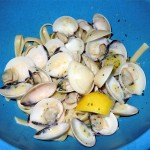 The main courses were my rack of lamb and the steamed clams.  There wasn't a thing wrong with either of them.  They were both delicious, down to the last bite.  We were even looking for a way to get more of the garlicky goodness out of the bottom of his bowl, and again it was the bread to the rescue!
My only gripe (besides the guy who answered the phone, and the waitress who plopped stuff on the table without speaking to us), was that the water was a little eggy tasting.  This was definitely a strong well water, and while most people just order pop or beer, I don't.  I like water, and enjoy it with my meal.  It was hard to drink, but I did anyhow.
Overall though, the food was delicious and we ate everything on the table.  I was satisfied
Food:  [usr 9]
Service:  [usr 5]
Show:  Diners, Drive-ins and Dives — Episode: Family Favorites (512)
Restaurant Info: Giusti's — 14743 Walnut Grove-Thornton Rd, Walnut Grove, CA 95690 — (916) 776-1808