8/27/2010:  We work in a small town about 12 miles outside of the Metro Toledo area, so restaurants are a long drive during an hour lunch break.  One day, we stumbled upon this bar called Playmakers next door to a sushi bar we frequent.  A sign out front noted that they have 1/2 price menu at lunch every day from 11-2.  Of course, we decided to stop in and try it.
Our first few times were good.  The menu had a variety of wacky burgers and sandwiches to try, and at half price they were totally worth trying.  I've tried such burgers as the Juicy Lucy (stuffed with cheese), Islander (with pineapple and shrimp), and the House (fried egg and fries).  I've even tried a few of their chicken sandwiches and gyro.  Most of the food has been decent, however about 1/2 the time the food is WAY over salted for my taste.  I guess we've gone there 10-12 times in the last two months simply out of convienence and price.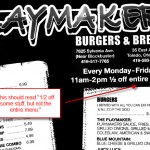 Today, however was my last visit.  The service is SUPER SLOW everytime we go to this place, so we decided to call our order in ahead of time.  This time, since I've tried so many other things on the menu, I decided to branch out and get a pizza.  I ordered a pizza with gyro meat and spicy feta.  The pizza was terrible, but I was willing to chalk it up as a loss since so many other things on the menu were worth coming back for.  This was, of course until I got the bill.  According to the menu, a "One item pizza" was $7.99 and an additional topping was $0.99.  Anyone with half a brain can do the math (except the waitresses) and tell me that a $9 bill should be $4.50 considering the menu clearly states at the top "Every Monday-Friday 11am-2pm 1/2 off ENTIRE menu".  I'm looking at the bill for $6.40 and I'm confused.  I see a line item that says the pizza was $4.00 and each topping was $0.99.  I asked the waitress why I was charged for TWO extra toppings, when I had a ONE topping pizza plus ONE extra topping.  She told me that it's not a one item pizza.  I point to the menu where it clearly states "One item pizza"..  She says, "Umm..  I don't know.  I think that the one item is cheese."  Why doesn't it say "Cheese only… 7.99" then?  Nobody spells out a menu like this.  She then gets snarky with me and says "I'll have to look at it later because I'm very busy."  (This is the first time where the place has ever had more than 3 tables full of people.  Again, not my fault.)
She brings our change, and disappears again.  I'm angry, and decide to just take the $1 from her tip, and we leave.  My co-worker Dave then points out that neither of the two toppings I was incorrectly charged for were 1/2 off.  Now I'm out another $1.  Sure, these are small amounts, but it would definitely add up, as we had eaten there so often.  He also noted that on Monday when he was there, neither his drink or fried twinkie was half off.  Surely there's some false advertising on their menu.
All in all, the service has always been bad here, and the food is often salty.  Even though we ate there several times out of convienence, I simply can't see myself going back after that waitress was SO INCREDIBLY RUDE to a regular customer.  She can bite me.  Hopefully the slow sales will put them out of business.  Then maybe this snarky broad with the pound of makeup on her face can find a more suitable career…  (I'm not sure what she's qualified to do, as she's dumber than a bag of hammers, much like every other waitress we've had here.  She had better marry rich.)  In any case, if you want slow, rude service and a big bowl of salt for lunch, I fully recommend Playmakers.
Food:  [usr 5]
Service:  [usr 0]
Restaurant Info: Playmaker's Burgers & Brew — 7625 Sylvania Ave, Sylvania, OH 43560 — (419) 517-7765