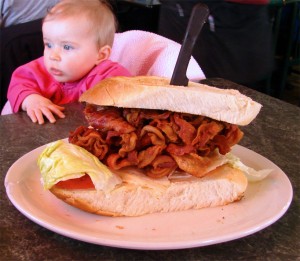 March 2009 — It was a two hour drive from Toledo to Birch Run, MI, and we were going specifically what is called one of the largest BLT sandwiches in the world, so we had hoped it was worth the drive.  It was.
Upon arriving at this truck stop, we immediately noticed a line out the door waiting to get in.  With that many people waiting in line to get in, how could it be bad?  As we waited, some people exiting the restaurant told everyone in line "It's totally worth the wait."
Once inside, you can see that the portions are absolutely huge here.  It seemed that there were heaping plates everywhere.  Big breakfasts, big dinners, and even big desserts. (The banana split is … well, it's BANANAS!  It's truly a monster.)  We came for the bacon though.  According to the special, when you get bacon, it's a heaping helping of bacon.  One pound to be precise.  That's a LOT of bacon, no matter how much you love it.  It's deep fried bacon, so if you don't like it that way, it may not be for you.  We found it just just fine though.
My wife ordered the BLT (as pictured above), and I ordered Bacon & Eggs.  It was three eggs, a giant slab of hash browns, two quarter loaves of fresh italian bread with house-made strawberry preserves, and piled on top was a whole pound of bacon.  This was the ultimate breakfast feast.  It was delicious, and I'll definitely eat there again anytime.  I ate about half of my meal, and spent the rest of the weekend mixing bacon into everything we cooked at home.  Between my breakfast and Mel's BLT, there was a LOT. Too bad there was no room for one of those banana splits…
Next time, we may have to order dessert first.
[usr 9]
Show: Food Paradises — Episode:  Sandwich Paradise
Restaurant Info:  Tony's I-75 Restaurant — 8781 Main St, Birch Run, MI 48415 — (989) 624-5860