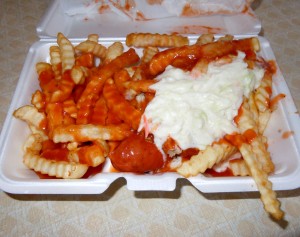 April 2011:  I know what you're thinking.  What is that pile of stuff in the photo?  It's simply one of the best Polish Girl sandwiches I've ever had.  A Polish Girl is similar to a Polish Boy, but they've also added smoked pork shoulder on top.  Basically, here's what's in the pile:  On the bottom is a simple hot dog bun.  Next, is a deep fried polish kielbasa.  On top of that, is a drizzling of their deliciously sweet hot sauce.  Next up is a few french fries, followed by smoked pork shoulder, topped off with a healthy pile of cole slaw.  Somewhere in there was another layer of sauce…  I forget where.  In any case, I ordered a side of fries with it, and also asked for the sauce to cover them as well.  Absolutely delicious.
Mel ordered the Fried Chicken, but made the mistake of not having the sauce cover it.  This was actually a flaw in their ordering process.  There was no menu board telling you what they had.  After 5-10 minutes of being in line, we finally found a paper take-out menu, and made a decision about what to order.  The page was a mess, and didn't really describe the procedure properly, nor did it describe the sauce.  Since the place was called "Hot Sauce Williams", you'd think that the sauce was spicy.  It was not.  It was more of a thinned down sweet BBQ sauce, served warm.  Mel doesn't like spicy things, so she didn't order it.  Had we known it was not spicy, she'd have covered her chicken.  In either case though, it was pretty good.  The sauce was so right in every way though, and would have made the chicken that much better.
The restaurant was pretty dark and dirty, not at all like they portrayed it on Man v Food.  Didn't really matter much to me, but this might to some people.  The tables were sticky, so cleanliness was definitely an issue.  It wasn't too busy considering we were there on a Friday night, so getting in there anytime for a quick bite shouldn't be a problem.  The food was solid though, and I'll probably be back.  Now that I know the ordering process, it'll be much easier next time.  Check it out if you're in the area.
Food:  [usr 9]
Service:  [usr 6]
Show:  Man v Food — Episode:  Cleveland (303)
Restaurant Info:  Hot Sauce Williams — 7815 Carnegie Ave, Cleveland, OH 44103 — (216) 391-2230