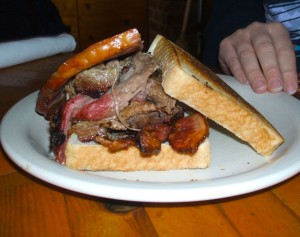 December 2009 – On the west side of downtown Detroit, is a BBQ joint called Slows Bar-B-Q.  Many BBQ joints have similar offerings, so usually the quality and sauces are what set them apart from each other.  After seeing this one on Man v Food, and some of the unique things on their menu, I was immediately interested.  (It didn't hurt that this place was only 45 minutes from home…)  As soon as you get out of your car, you can smell that classic barbecue smell.  Fantastic.  Upon entering, the place is pretty nice inside.  It's a wood theme, and it was pretty clean.  Actually, it was a little fancy for a BBQ joint.  (They had cloth napkins on the tables!)  There's a full bar also.
We finally got down to looking at the menu, and of the five adults, two people ordered the sandwich I was interested in… the Triple Threat Pork.  This is the mecca of all BBQ sandwiches.  It's a layer of primo thick cut bacon, with a pile of pulled pork on top, followed by a big slab of ham.  It's served on a choice of Texas Toast or a Kaiser.  Since my wife ordered that one, I decided to go with something different.  I ordered the Mary Ann, which was a chopped beef brisket sandwich.  The sandwiches arrived, and I must say I was a little disappointed with mine.  Of the 5 sandwiches ordered, mine was roughly 1/3 the size of everyone else's.  What manner of deal is this?  Boo!  Well, it was tasty, but not at all filling.  However, the Triple Threat Pork my wife ordered was large and filling, thus she only finished half.  Of course, I couldn't let all of that pork goodness sit on the table, so I ate the rest.  It was hands down the best BBQ sandwich I've ever eaten.  Between the layers of meat, and the delicious sauce choices, it was fantastic.  There were about 5 sauces on the table, but the two that I was interested in were the Sweet and the Apple.  The Sweet sauce was the one on the show, which I believe they said was infused with orange soda.  It was interesting, but needed to be used sparingly.  The sauce that really stood out was the Apple flavored one.  It had a unique flavor, and really tasted like apples.  Loved it.  Given the opportunity, I might have had a glass of it.
The fact that my sandwich was totally tiny was sort of covered up by how great the Triple Threat Pork was, so I was happy that we went here.  It was a little on the pricey side, however.  Expect to pay around $8-9 for a sandwich with absolutely ZERO side dishes.  We ordered a side of waffle fries and some macaroni and cheese, totaling around $5 for both.  The mac and cheese was awesome though, and definitely made from scratch.  The service was a little slow, living up to the Slows name.  Minor gripes aside, I would totally eat here anytime I'm in the area.  I'm just glad they're not in my neighborhood.  I'd be broke from eating there all the time.
[usr 8]
Show:  Man v Food — Episode: Detroit (214)
Restaurant Info: Slow's Bar-B-Q — 2138 Michigan Ave, Detroit, MI 48216 — (313) 962-9828