I've had a few ideas for custom car gadgets.  One of the coolest things about owning a 3D printer is the ability to make something that fits your device /situation exactly.  The first thing I knew I needed was a GPS holder.  Mine didn't come with one, and I don't like the suction cup type.
I thought this would also be a good opportunity to test printing with support structures.  I didn't care what these things looked like quality-wise, so it was a great learning exercise.  I started by making an STL of my model, and breaking it down into separate parts for easier printing.  (I glued the two pieces in the photo together with acetone.  I then attached a Velcro strip to the bottom and mounted it to a good space on my dash.)  The holes cut out of the model were mostly to save plastic, though I wish I had left the bottom strip a little more solid so the Velcro would have had more surface area to attach to.  Still, I had no issues on my recent trip.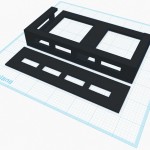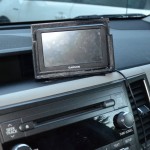 Additionally, I needed to figure out what to do with my phone while driving.  I like to charge it, but didn't want it to take up valuable cup holder space while driving.  (I need that for drinks and fries.)  I mocked up another design that would allow me to see how some serious support structure would work.  Additionally, I wanted to see how hole tolerances work.  I originally designed it with a round peg in the back, and literally nothing to stop the phone from falling out of the front.  This didn't work out, so I redesigned it.  I tried the model below with a square peg and some little corner braces.  As you can see, it does exactly what I need it to do.  Holds my phone while charging, allowing me full access to my cup holders.  (I'm still not great at figuring out the tolerance and variances, so the square peg didn't fit either, but a little sanding made short work of that.)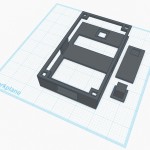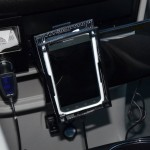 Neither of these came out perfect, as I printed them during the time I was still having leveling problems with my heated bed.  Since they were just for me though, that first layer wasn't all too critical, and I used them anyhow.  They did the job and they're both still in the van today.   Being ABS, they both held up great in the beating Florida sun on 100 degree+ days.  They're just as strong today as when I printed them.  Plus, they're specifically designed to fit my devices.  A perfect fit.  It's cool to have options.